Priest fled UK out of 'cowardice' after sexual assault charges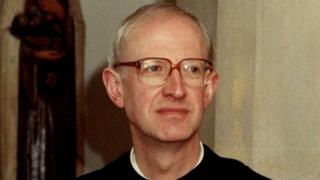 A Roman Catholic priest fled the country out of "cowardice and stupidity" after being accused of abusing young boys, a court has heard.
Laurence Soper, 74, is charged with 19 counts of sexual assault against boys at St Benedict's School in Ealing, where he taught.
Mr Soper was returned to the UK in May 2016 from after a five-year police hunt in Kosovo, the Old Bailey heard.
Ten former pupils have made allegations dating back to the 1970s and 80s.
The boys allege they were subjected to rape, sexual touching and beaten with a cane.
Mr Soper was arrested in 2010 and bailed, but failed to return to a London police station in March 2011.
A European Arrest Warrant was issued for him in 2012.
Mr Soper - who is no longer a monk but remains a priest - said his whole life had been "ruined" by the allegations.
He insisted he did not flee to Kosovo because he was guilty.
He said: "My stupidity and cowardice and wishing to bury my head in the sand played a big part.
"If you want to destroy a priest, vicar, anybody, all you have to do is make an accusation up against them.
"Their future is ruined, their character is ruined."
Mr Soper said he had been beaten with a cane several times when he too was a pupil at St Benedict's in the 1950s.
It was "not totally uncommon" to hear of boys being caned with "clothes off", he added.
Mr Soper told jurors, he had caned boys as a teacher but felt "totally different" about the practice now.
He denies all the charges against him, including indecent assault and indecency with a child.
The trial continues.