Mayor of London calls on councils to ban fracking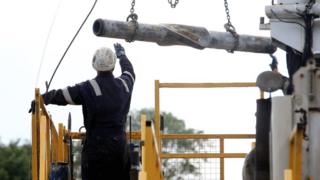 New proposals will ask councils to ban fracking in London.
The Mayor of London will recommend councils block appraisals or production of shale gas using fracking in his draft London Plan, published later this week.
Sadiq Khan called the method "harmful" and said any applications to his office would be denied.
Mr Kahn said London's boroughs should focus on "clean and renewable forms of energy".
The process can generate toxic silica dust, which can cause chronic lung damage, as well pollutants that worsen neurological problems, Mr Khan said.
The levels of water required for fracking could also lead to shortages, the plan will say.
There are no current fracking applications in London.
---
What is fracking?
Fracking is the process of drilling down into the earth before a high-pressure water mixture is directed at the rock to release the gas inside.
Water, sand and chemicals are injected into the rock at high pressure which allows the gas to flow out to the head of the well.
The term fracking refers to how the rock is fractured by the high pressure mixture.
---
Energy firm London Local Energy has claimed that natural gas under an industrial estate in the capital that could have deposits "worth millions".
The draft London Plan is published on 29 November, followed by a public consultation until 1 March 2018
Fracking was effectively banned in Scotland last month, following similar moves in Wales and Ireland.
France, the Netherlands, Germany and Bulgaria have also banned the practice.