Boat crash widow has £30,000 prosthetic legs stolen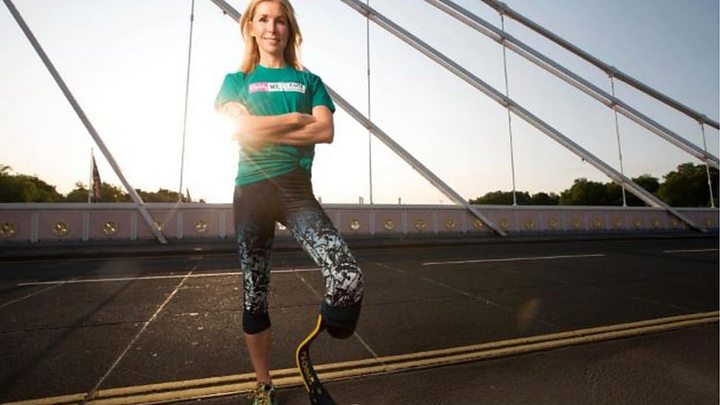 A woman who lost her leg in a speedboat accident that killed her husband and daughter has had prosthetic limbs worth about £30,000 stolen.
Victoria Milligan, 45, lost her left leg below the knee in the accident in 2013.
Thieves on mopeds stole a suitcase containing three specially-cast limbs from Ms Milligan's car.
"I was left on the floor devastated and crying my eyes out when I found out," she said.
"After what I've been through nothing surprises me anymore, but I couldn't believe it happened," she told BBC Radio London's Vanessa Feltz.
The prosthetics were stolen as Ms Milligan had lunch at Megan's restaurant on Kings Road, Chelsea.
Two males on scooters smashed both the car's passenger-side windows and stole two bags from the back seat, police said.
In one suitcase were her blade, used for running and in her job as a personal trainer, and two lifelike limbs.
She said it could take three months and cost £30,000 to replace them.
The other bag contained a laptop.
All six members of the Milligan family, from London, were thrown out of the boat during a family holiday in Cornwall in May 2013.
Her husband Nick, 51, and eight-year-old daughter Emily suffered fatal injuries.
Son Kit, nine, required 12 operations to save his leg while 16-year-old Amber suffered wounds to her left thigh and hand. Olivia, 14, was unhurt.
'Time and effort'
A prosthetist makes Ms Milligan's limbs by hand and said he had had hundreds of appointments with her.
Abdo Haidar from the London Prosthetic Centre said she was "devastated" by the theft because it is so difficult to create the bespoke items.
He said: "It's very tricky to produce a leg 100% right.
"She has different legs for different reasons - one for high heels, one for a mid heel, a flat one, one for the gym, one for long distance running and one for skiing.
"To get to the level of comfort with these legs takes me so much time, and her so much effort."