Wormwood Scrubs 'dangerous for inmates and officers'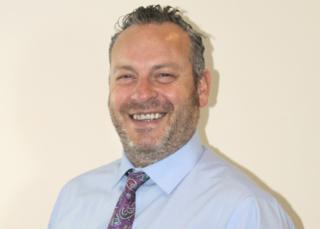 A prison officer has told of being "at the mercy" of violent inmates.
Dave Todd from the Prison Officer Association (POA) said just two officers oversee 200 prisoners in some UK jails.
His account comes as a report found Wormwood Scrubs prison in west London is dangerous for inmates and prison officers alike.
The Prison Service said improvements are needed but that it has begun tackling some problems.
Mr Todd said officers are often outnumbered at the jail in Shepherd's Bush.
He added: "It's difficult to get across to the public how tough it is to tell prisoners to do things.
"We are outnumbered, they may resort to violence. You are genuinely concerned for your safety."
The 47-year-old has worked as a prison officer for almost 30 years, including at Swaleside in Kent and Berwyn in north Wales.
He represents Wormwood Scrubs for the POA.
Mr Todd said managing prison riots is the most dangerous part of his job.
"It's unnerving. You don't know what you are getting into," he said.
"If a prisoner wanted to take a hostage you would be at their mercy."
Powerless
Mr Todd added that when officers are outnumbered during activities outside, contraband is easily smuggled in.
He said: "A package comes over the wall.
"Then the prisoners form a scrum so that the officers cannot see who has the contents."
Wormwood Scrubs is a Category B prison with about 1,200 inmates.
The jail sees 40 to 50 violent incidents per month, according to the new Independent Monitoring Board (IMB) report.
Rob Foreman, Chair of IMB Wormwood Scrubs, said: "We all pay for the prisons, as taxpayers, so these reports are the only way people can see what is going on inside them."
He added that the prison is grappling with a staff shortage with only 21 of the 57 officers who left their posts in the last year replaced.
The new report follows findings from 2016 that the prison was "rat-infested and overcrowded".
The Prison Service said Wormwood Scrubs had made "significant progress" but that there is still "more to do".
It said extra sniffer dogs and officer body cameras had been brought in to address drug problems and improve safety.
It added that a recruitment campaign is under way to boost staff as part of a £100m bid to hire 2,500 extra prison officers across the country.