Moped gang smash and grab raid luxury watch shop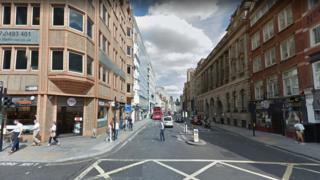 A moped gang brandishing a sword has robbed a central London luxury watch shop in a smash-and-grab raid.
The gang used one of the vehicles to smash their way into the Chronext shop on Fleet Street shortly before 11:00 GMT, City of London police said.
It is the third time a Chronext store has been targeted in London in 18 months.
No-one was injured during the robbery and no arrests have been made, police said.
Up to seven people dressed in dark clothing with face coverings descended on the shop on mopeds, eye witnesses said.
Two members of the gang brandished a miniature samurai sword and a "home made machete" at passers-by to prevent anyone from entering the shop.
"It was very frightening" Danilo Camsterin told the BBC.
"We're only a few feet from the Royal Courts of Justice but there were no police here, no-one patrolling the area. It's crazy.
"It was more than 20 minutes before police turned up," he added.
A spokesperson for Chronext said: "Alongside the other leading British high-street watch retailers who have been targeted this past month, we will continue to safe guard its customers and stock.
"Our focus now is on our shop staff who are thankfully unharmed."