Crystal Palace unveil plans to transform Selhurst Park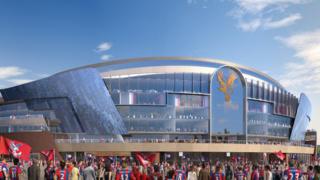 Crystal Palace's chairman has unveiled plans to increase Selhurst Park's capacity to more than 34,000.
Steve Parish said the expansion, expected to cost between £75m-£100m, would be an "icon" for south London.
The full revamp is expected to take three years to complete, and work could begin "within 12 months".
KSS, the architects behind the project, have previously redeveloped sporting venues including Anfield, Twickenham and Wimbledon.
Palace have been wanting to revamp Selhurst Park since they were promoted to the Premier League in 2013.
The club had looked at moving away from Selhurst Park, however Parish said this option "wasn't viable".
Instead, Crystal Palace will now look to revamp the current stadium in south London - which currently has a capacity of 25,456.
The "centrepiece" of the proposal is a new five-storey Main Stand.
If given the go-ahead the project will follow a similar route as to how Liverpool FC redeveloped Anfield - meaning the Main Stand will remain in "full operation use" throughout construction.
The planning application will be submitted to Croydon Council in January and the club said that, subject to approval, work will begin on the stadium by the end of 2018.
Mr Parish said: "We need a stadium that reflects who we are, how far we have come and where we want to go - a stadium that south London can be proud of, a home worthy of our incredible support and unique atmosphere and this great Premier League we represent."
Croydon Council say discussions around the redevelopment remain at a "very early stage".