Men sought over gay apology attack on Jubilee Tube train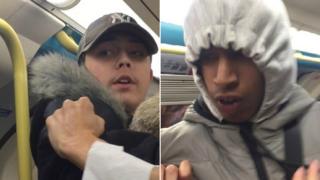 Police are searching for two men after a teenager was attacked on a Tube train and forced to apologise for being gay.
The 19-year-old had been travelling with friends on the Jubilee line in south-east London on 21 October when he was verbally abused by two men.
One of them put him in a headlock while the other took his phone and threatened to stab him. He was then strangled until he said sorry for being gay.
The British Transport Police (BTP) said "hate crime would not be tolerated".
The group that included the victim were dressed in fancy dress and had been travelling between West Ham and North Greenwich when the attack occurred.
After the men released the teenager they gave him back his phone but got into a fight with the rest of the group, police said.
A 25-year-old woman suffered bruising after she was punched and pushed to the ground.
In a statement, the BTP said: "We won't tolerate behaviour where someone is targeted because they are perceived to be different, or made to feel uncomfortable on their journey."