Passengers evacuated 'very close to' live rails on London Overground train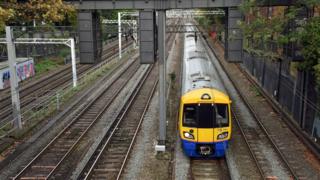 Rail passengers were evacuated "very close to" live rails on a London Overground train, the BBC has learned.
The Arriva train from Dalston Junction to Battersea Park was carrying 450 people when it suddenly came to a halt shortly before reaching Peckham Rye.
About 80 people were evacuated through a door at the front of the train and walked "very close to the live electric conductor rail".
The Rail Accident Investigation Branch (Raib) said it was investigating.
The train came to a stop at 18:46 GMT on 7 November because a faulty train component activated the brakes, the Raib said.
Staff alerted
Once the driver - who was unable to release the brakes - asked passengers to disembark, people started climbing down vertical steps to ground level. They were walking along the side of the line about 30 metres to Peckham Rye station, the Raib said.
Soon afterwards, an operations manager from Peckham Rye station alerted staff and the evacuation was stopped.
The driver then isolated various safety systems which enabled him to release the brakes and move the train forward into Peckham Rye.
By about 19:40 GMT the train arrived and passengers disembarked normally, with the empty train proceeding to the depot at New Cross Gate.
The RAIB's investigation will focus on the sequence of events, radio conversations and decision-making process leading up to the evacuation.
Transport for London (TfL) said: "We take the safety of our customers extremely seriously and will work with the operator, Arriva Rail London, to fully assist the RAIB with their investigation."