Roads and Tube station re-open after St Paul's package alert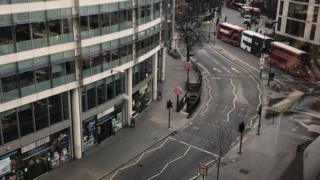 Roads around St Paul's Cathedral have re-opened after a police investigation.
City of London Police responded to a call about a suspect package inside a building on St Martin's Le Grand at 10:23 GMT but deemed it as "non-suspicious" about an hour later.
One witness said she believed there was a controlled explosion at a Tesco Express store on the road.
Police declined to comment on the explosion but confirmed at about 12:15 GMT that cordons had been lifted.
St Paul's Tube station, which was closed following the incident, has also re-opened.
Samantha Henry was working at the BT offices on Newgate Street opposite St Martin's Le Grand when the police investigation was taking place.
She said an announcement was made at the office at about 11:00 GMT asking workers to move away from windows facing St Martin's Le Grand to another part of the building.
"Just as we got up to leave we heard a noise that sounded like a bang.
"Then another announcement was made to say that police had taken out a controlled explosion and the area has now been cleared and we could go back.
"When I looked out of the window I could see that there was only staff at the Tesco and they looked like they were cleaning up debris."
Ms Henry, a contractor for BT, said within another 10 minutes she could see customers coming in and out of the shop.
A spokesman for City of London police said the force never commented on controlled explosions.
Tesco has been approached for comment.
People have reported on social media that a suspicious package was found at St Paul's Tube. But British Transport Police said none was found on the Tube or transport network at St Paul's.