Camden couple get five-figure payout over assault claims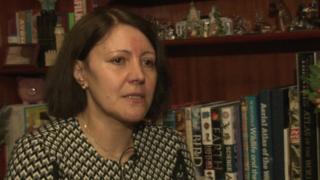 A couple who say police officers assaulted them in their own home have received a five-figure settlement.
Aldires Bugia, of Camden, said an officer "kicked open" her front door in April 2013 and two officers started punching her husband.
The Metropolitan Police believed a man wanted in connection with a drug deal was at the flat.
It made the payment to settle an out-of-court a claim of unlawful arrest and police brutality.
Ms Bugia said she and her husband, who has not given his full name, were woken up by six officers in the middle of the night.
'Punched and grabbed'
As Ms Bugia opened the front door, one of the officers "kicked it open" and two of them came in claiming there were class A drugs in the flat.
When Mr Bugia appeared, two officers started punching him, his wife said. They then grabbed him and threw him against a brick wall outside the front door where he injured his head.
Ms Bugia said she sustained multiple bruises.
Police said they had reports of a drug deal taking place outside a now disused pub near the flat, and that CCTV showed one of the people involved in the deal entering the estate and going to the Bugias' flat. No class A drugs were found at the property.
Ms Bugia and her husband were arrested for obstructing and assaulting police officers, and kept in custody for 22 hours.
They were charged with assaulting police, but later acquitted by a jury.
Ms Bugia said the experience had left her traumatised, on medication and suicidal.
"The worst thing is the scar in my heart which will never ever disappear," she said.
The couple's lawyers asked repeatedly to see the CCTV connecting their home to a drug deal. But the lawyers said despite numerous requests, police failed to produce it.
Susie Labinjoh, of Hodge Jones & Allen solicitors, said they would have never taken legal action if the Met had apologised.
The force said in a statement it did "not admit liability" and that "an apology was not part of the settlement".
Police said a 19-year-old man had been arrested at the scene for being concerned in the supply of drugs and obstructing a drugs search. He was given a penalty notice for possession of cannabis.
The Bugias began civil proceedings in July 2016 against the Met, claiming wrongful arrest, false imprisonment, assault and malicious prosecution. The case was settled in October.