London Euston to become Christmas Day homeless shelter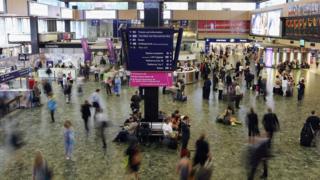 London's Euston station will be turned into a shelter for the homeless on Christmas Day.
The station concourse will be filled with decorations and tables set for a festive dinner on 25 December.
Rail workers and charity staff will serve food to 200 rough sleepers invited to the event.
About 30 volunteers from Network Rail will work alongside charity St Mungo's and Streets Kitchen to provide "some festive cheer".
Euston station manager Joe Hendry said the station team was looking forward to bringing the "unique event to life".
Steve Naybour, from Network Rail, said: "Using a station to give homeless people a Christmas dinner and some festive cheer is a great thing to do.
"I'm proud to say we've had lots of interest from Network Rail colleagues to volunteer to come along on the day to help out.
"Everything, including people's time, has been donated."
You might also like:
Network Rail said invitations had been sent to people identified as homeless by St Mungo's and Streets Kitchen.
Beth Nordon, community and events manager for St Mungo's, said: "Many people become homeless because of relationship breakdowns so Christmas can be a particularly lonely time for some of our residents.
"Our thanks to Network Rail, their staff and volunteers, for helping some of our residents in Camden and neighbouring boroughs feel included in the community this Christmas Day."