Queen's swans stabbed and decapitated in Thamesmead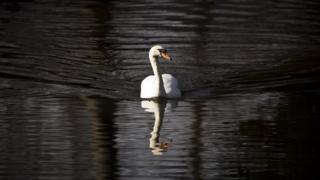 Six swans, including three cygnets, have been found stabbed and beheaded.
Two mute swans were decapitated in Birchmere Park, Thamesmead, south-east London, last month - a third was found mutilated in nearby Southmere Lake.
The RSPCA are investigating the deaths as it is illegal to harm the birds. Mute swans are protected under the Queen's royal prerogative.
Locals, backed by the charity, have setup 24-hour patrols in a bid to catch the killers.
The Metropolitan Police said it was helping the RSPCA with the investigation.
Under the Wildlife and Countryside Act 1981, anyone prosecuted for deliberately trying to injure, kill or take a wild bird can face up to six months in prison and a potential fine of up to £5,000.
Park rangers have not given exact dates as to when the bodies of the six swans, as well as a Canada Goose, were found.
However, the RSPCA said it was made aware of the deaths on 6 December, but believe the bodies had been "discovered two weeks earlier."
Nick Wheelhouse, RSPCA inspector, said: "It's really concerning because the birds seem to have been stabbed and then beheaded, with their bodies left beside the water.
'Wanton cruelty'
"While it's a serious animal welfare concern it's also really upsetting for any of the park users who make the grisly find."
Paul West, who is part of the local swan protection patrols, added: "This is an act of wanton cruelty and evil. It is beyond belief.
"We keep in the shadows and use torches only when we need to. So we try to keep a low profile in the attempt that we catch them in the act."
A spokeswoman for the Royal Household said it would not be commenting.