Low Emission Bus Zone: Not sexy but they seem to work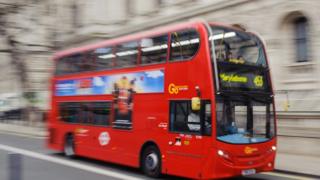 No-one is going to say the Low Emission Bus Zones is the sexiest transport policy in the world.
It's not a new tunnel or a cable car spanning the Thames and frankly there's not much you can actually see, like signs to show you are even in a Low Emission Bus Zone.
In fact, I went to the press launch of the second of these zones in Brixton, south London, and I think I was one of just two journalists there.
However, what these Low Emission Bus Zones could be is a very local, effective targeted transport initiative that forces cleaner transport and could be making a difference to areas where pollution is at its worst.
Not rocket science
The theory behind them isn't exactly new or rocket science. Boris Johnson's administration swapped the cleanest buses onto the most polluted roads in central London.
But the idea has now been re-badged and they now cover all buses that use a certain route. There will be 12 zones by 2020.
What it means is bus operators can only use buses which comply with Euro VI engine standards on those routes.
They are also quite flexible and so can also be located outside the ultra Low Emission Zone (uLEZ), which starts in April 2019.
Teething problems
The first zone in Putney High Street did have teething problems.
Wandsworth Council was initially annoyed older polluting buses were just moved onto other routes elsewhere in the borough.
The mayor admits they had to learn lessons there and it took much longer to retrofit the Putney buses to Euro VI.
But City Hall claims: "Already, after less than six months, the Putney route has seen a 90% reduction in hourly pollution level breaches and early analysis suggests a 40% reduction in annual NO2 concentrations at Putney High Street."
Also, a replacement programme to phase out diesels and only buy hybrids or electric buses is already underway.
The bus zones also give a framework to where the cleanest buses should go.
That said, air quality campaigners at Clean Air in London do heed caution and say what is really needed are policies that address the London-wide issue.