Car crashes into basement on Lancaster Terrace in west London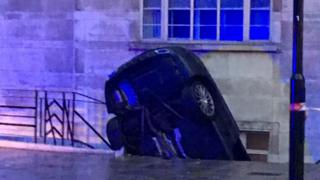 A car crashed into a building in west London and ended up stuck vertically in a basement.
The crash happened on Lancaster Terrace - by Lancaster Gate Tube station near Hyde Park - at 5:17 GMT.
The driver was arrested on suspicion of drink-driving. The Metropolitan Police said he did not require hospital treatment.
Louie St Claire, who was walking past the scene from Paddington station, said "it was quite a sight".
He added: "I was commuting to work from Windsor. I've never seen anything like it. Everyone was taking photos."