PC 'fighting for life' after being trapped under Maserati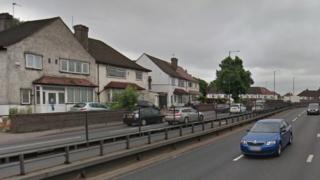 A police officer who is in a life-threatening condition was trapped underneath a sports car after being struck by it, the Met has said.
The policeman underwent a "significant operation" after the incident in Neasden, north-west London, on Sunday, the force said.
The Maserati also hit a second officer, who was seriously injured.
The driver was arrested at the scene and remains in custody.
Cmdr Dave Musker said the officers, both in their 30s, had been dealing with another incident in the Brent Park area at about 03:40 GMT.
They were walking back to their police car when they were hit by the Maserati.
'Significant injuries'
He said: "What we think happened, there was a vehicle which ended up coming off the North Circular Road colliding with a number of walls and ultimately hitting both constables - one of which was trapped under the vehicle.
"Both suffered significant injuries and I'd just like to pay tribute to the emergency services and their own colleagues.
"They moved the vehicle to allow one of the officers to be treated. The care they have received from the emergency services has been exemplary."
A woman who was in the Maserati was taken to hospital but was not seriously injured.
The driver, in his 50s, was arrested on suspicion of dangerous driving and failing to provide a breath specimen.