Arthur Collins jailed for Dalston club acid attack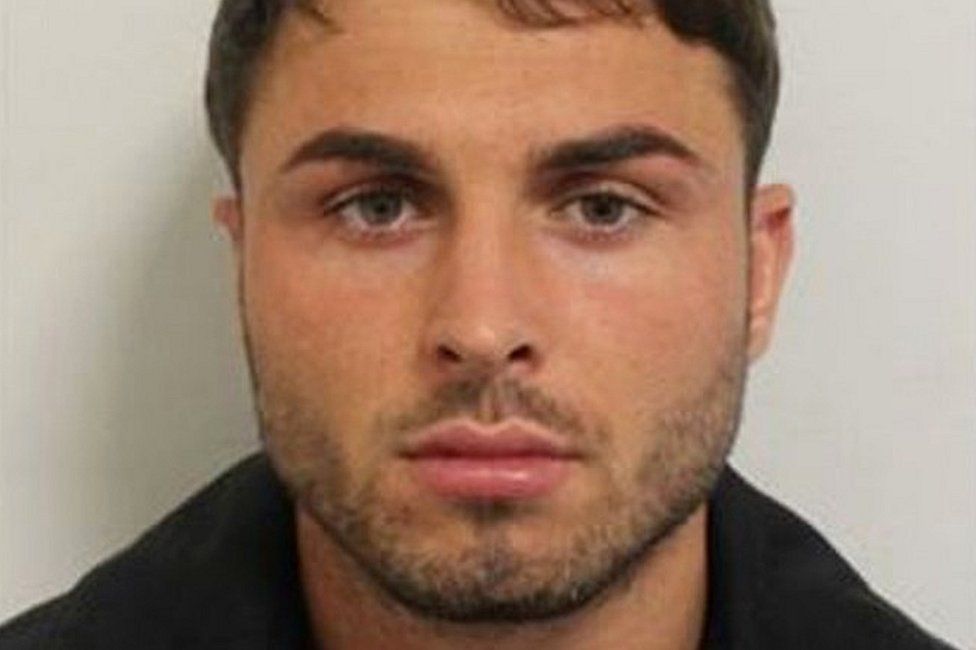 A man who threw acid across a packed London nightclub injuring 22 people has been jailed for 20 years.
Arthur Collins, the ex-boyfriend of reality TV star Ferne McCann, threw the corrosive substance at revellers in Mangle E8 in Dalston on 17 April.
The 25-year-old admitted throwing the liquid but had claimed he believed it was a date rape drug.
He was sentenced at Wood Green Crown Court to 20 years in prison with an extra five years on licence.
Sentencing Collins, of Broxbourne, Hertfordshire, Judge Noel Lucas QC described the crime as a "despicable act".
Judge Lucas said: "His defence from first to last was carefully researched and choreographed in order to explain away the evidence against him."
Collins, he added, threw the acid "irrespective of the persons on whom it landed" and that "his motivations for such a vicious course of conduct was nothing more than a perceived personal slight".
Addressing Collins, he said: "You knew precisely what strong acid would do to human skin.
"Having thrown the acid over the club you slunk away and hid in the rear and pretended to be nothing to do with the mayhem you had caused.
"It was deliberate and calculated and you were intent on causing really serious harm to your victims."
The judge labelled him an "accomplished liar" and someone who has "not the slightest remorse for his actions."
Collins was in the dock wearing a suit and showed no reaction as his sentence was read out.
A total of 22 people were injured as a result of the attack, 16 of whom suffered serious burns.
One man suffered third-degree chemical burns to the left side of the face and required a skin graft. Others had eye injuries.
One of his victims Sophie Hall, from Poole, Dorset, said she had hoped for a life sentence, but felt justice had been served.
She said after the sentencing: "Arthur showed no signs of remorse in court. I have to live with my scars for life."
Judge Lucas said that security at Mangle E8 was "poor", adding that had it been better, the injuries and offences "might not have happened".
The BBC has contacted the club for comment.
Collins had six previous convictions including using threatening words, possession of cocaine, drink-driving and assault, the court heard.
He was given a six-month sentence suspended for 12 months at Woolwich Crown Court for punching a man in a nightclub on 28 December 2015, and was still subject to the suspended sentence when he carried out the attack at Mangle E8.
The father of Ms McCann's child referred to the attack as a "stupid little mistake" during Tuesday's hearing.
Victims who read impact statements to the court spoke of feeling "scared", "traumatised" and "suicidal" as a result of the attack.
Throughout the victims' statements, Collins showed little emotion.
What happened that night?
Collins had claimed in court he had taken the bottle from a group of men with whom he had got into an argument.
He said he snatched it thinking it was a date rape drug.
"I wanted to show them the drug was gone; show them there was nothing left in the bottle."
CCTV from inside the club shows Collins throwing acid at the men.
Seemingly unaware of the mayhem caused, Collins returned to the dancefloor "drinking, dancing, Snapchatting and having a good time", the court heard.
At a preliminary hearing at magistrates court, the prosecutor said the incident bore "the hallmarks of both drug-related activity and gang-related activity".
However, Collins and his legal team have always denied any kind of gang-related activity, insisting that there was "not a shred of evidence" to support the theory.