London Tube map with Elizabeth Line revealed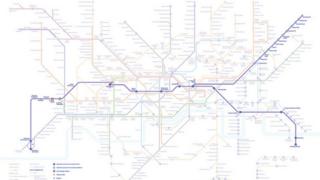 A new Tube map featuring the Elizabeth Line has been released to mark a year until the railway's completion.
The construction of the line has entered its final stages and it will open to the public in phases from December next year.
Fifteen trains per hour will run through the tunnels, increasing to 24 trains through the central section by May 2019, Transport for London said.
The line will operate as three services before a full service begins in 2019.
From December 2019, customers from Reading and Heathrow will be able to travel through central London to the West End without needing to change trains.
---
Elizabeth Line timeline:
May 2018: Rail service opens between Paddington and Heathrow, replacing the existing Heathrow Connect service and part of the Great Western inner suburban service
December 2018: The Elizabeth Line opens, initially operating as three services:
Paddington (Elizabeth Line station) to Abbey Wood via central London
Paddington (mainline station) to Heathrow (Terminals 2 & 3 and 4)
Liverpool Street (mainline station) to Shenfield
May 2019: Direct services to operate between Paddington and Shenfield and Paddington and Abbey Wood. Services from Paddington to Heathrow will continue to start and terminate at the mainline station
December 2019: The Elizabeth Line fully opens with services running from Reading and Heathrow, including Terminal 5, in the west through the central tunnels to Shenfield and Abbey Wood in the east