Deptford double murder: CCTV of 'extremely important' suspect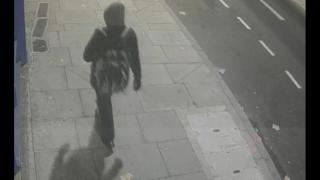 A detailed description of a man wanted in connection with the double murder of a father and daughter in south east London has been released by police.
Marie Brown, 41, and her father Noel, 69, were found dead at his Deptford flat on 4 December - days after the pair were strangled.
The suspect is seen walking in the area wearing a "distinctive" rucksack.
Det Ch Insp Simon Harding said it was "extremely important" that the suspect was traced.
CCTV from 2 December shows the suspect walking along Deptford Broadway and then Reginald Road, a street close to Mr Brown's home on New Butt Lane, at about 05:00 GMT.
The sequence of clips show a man who appears to be aged in his 20s or 30s, dressed in a hooded top, dark jacket and trousers or jogging bottoms and, dark trainers.
Police say the same footage appears to show the suspect avoid a woman wearing a light-coloured jacket.
Det Ch Insp Harding said: "We know from this footage and other information we have obtained that this individual can be placed at key locations.
"We also deem that his behaviour raises questions, and it is for all of these reasons I believe him to be a suspect for the murders."
Police now believe it is "highly likely" Mr Brown was killed overnight from 30 November into 1 December.
Detectives say Ms Brown was killed soon after she entered her father's home at about midday on 2 December.
Ms Brown worked at Ivydale Primary School, in Nunhead, and was described by the head teacher as an "incredibly kind, loving person and a valued member of staff".
Speaking exclusively to BBC London, Helen Ingham said: "The school is still in shock.
"It was horrendous news to receive and we are devastated and also united in the sadness and grief at what had happened."
Police say a key part of the murder investigation surrounds Mr Brown's lifestyle, and police say he was known to frequent a nearby Paddy Power betting shop.
Sex offender
Det Ch Insp Harding said: "Noel had never won any significant money, he won something like 39p on the day he was last seen."
After Mr Brown's death, detectives revealed he was convicted of a sex offence and jailed in 1999.
However, Det Supt Paul Monk said that was not "screaming out" as a motive for his murder.