PC Keith Palmer memorial stone planned for Parliament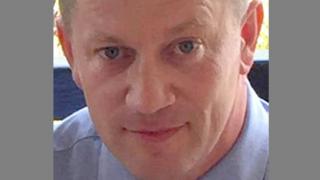 A memorial stone to the police officer killed in the Westminster terror attack will be put outside Parliament.
Leader of the House of Commons Andrea Leadsom made the announcement earlier in the debating chamber while paying tribute to PC Keith Palmer's "bravery and courage".
She said the stone will be placed near the Parliament entrance where the unarmed officer was stabbed.
His family have agreed to the memorial, which is still in the planning stages.
The Police Memorial Trust confirmed it was working with PC Palmer's family, the Met and other parties to ensure the stone honoured his "service and sacrifice".
Conservative MP Nigel Huddleston asked Mrs Leadsom for an update on the plans after his colleague, James Cleverly, raised the issue earlier this year.
Mrs Leadsom said: "Keith Palmer showed huge bravery and courage when he sought to protect our parliamentary community from a terror attack.
"He was also a father, a husband, a Charlton Athletic fan, and now also the posthumous recipient of the George medal."
"The Police Memorial Trust are working with Westminster City Council to erect a memorial stone outside Carriages Gate, which is something we'll all be pleased to see," she added.
PC Palmer will also be commemorated at the National Memorial Arboretum in Staffordshire.