Crossrail electricians to strike over pay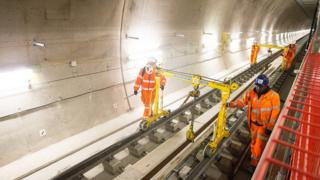 Electricians on the Crossrail project will stage a 24-hour strike in the new year in a dispute over pay.
Members of the Unite union working on the cross-London rail scheme will walk out on 10 January, with other stoppages threatened.
Unite said it would "undoubtedly cause disruption" and could "potentially delay the entire project".
Balfour Beatty, who employ the electricians, said it will "continue to engage without workforce".
It comes after a new Tube map featuring the Elizabeth Line was released to mark a year until the railway's completion.
It is the first time official industrial action has been called on Crossrail, the union said.
Crossrail, which will run through parts of London and Berkshire, Buckinghamshire and Essex, will carry an estimated 200 million passengers a year and cost nearly £15bn.
The Balfour Beatty employees voted by 85% in favour of strike action in a dispute over pay and a finishing bonus the union says is payable when employees are informed they are to be made redundant.
Regional officer Guy Langston said: "We have repeatedly tried to resolve this issue through negotiation but Balfour Beatty has refused to take the workforce's concerns seriously.
"We have had no option but to take strike action, this will undoubtedly cause disruption and could potentially delay the entire project."
A Balfour Beatty spokesman said Unite were demanding a "significant increase" in the bonus level agreed earlier this year, as well as "a productivity bonus".