Royal Opera House: Thousands evacuated over 'suspicious package'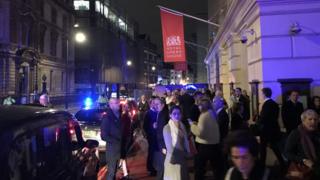 More than 2,500 people were evacuated from London's Royal Opera House after a "suspicious package" was found.
An announcement asking the cast and opera-goers to leave the area was made "on the final chord" of Thursday's performance of Rigoletto and cut short the curtain call.
Police were called to the Covent Garden venue at 21:39 GMT and later deemed the package safe.
The evacuation was described as "orderly" and "calm" on social media.
'Full costume'
Michael Fabiano, who plays the Duke of Mantua in Rigoletto, tweeted: "There was an orderly evacuation immediately on the final chord due to a 'fire emergency' which later matured into a bomb scare.
"I was able to greet most of the public in my full costume in Covent Garden."
One guest described the evacuation as an "unexpected drama added to an already brilliant Rigoletto", while another praised the "calm and professional" operation.
Another opera-goer expressed his regret performers were not given a "proper curtain call".
A spokeswoman for the venue said the auditorium seats 2,256 people and was full at the time.
The Metropolitan Police said it carried out the evacuation "as a precaution" and deemed the package non-suspicious at 22:35.
Audience members were then allowed back into the venue to collect their belongings.
Shortly before the incident in Covent Garden, officers carried out a controlled explosion at 21:40 on a "suspicious vehicle" at Hyde Park Corner.