London smash-and-grab moped gang jailed over £1.2m spree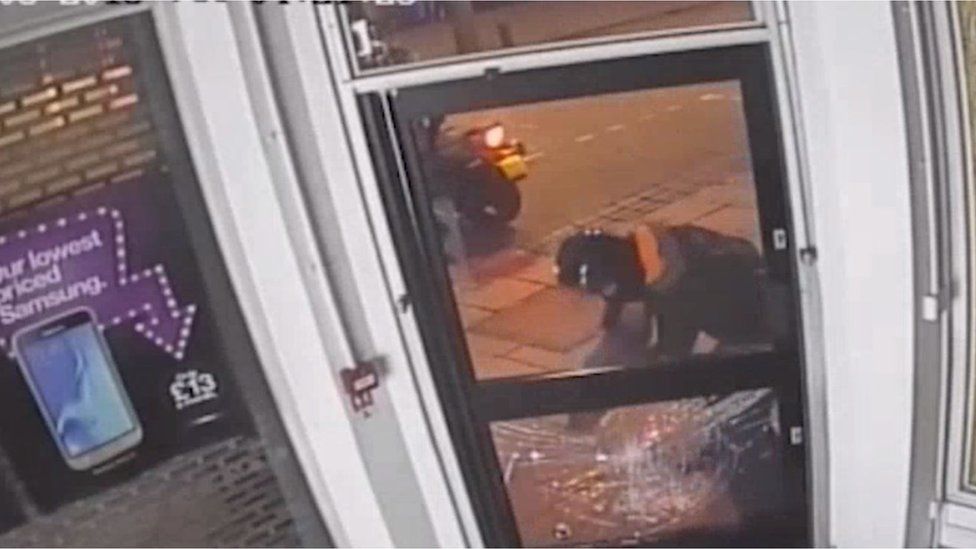 Ten members of a moped gang have been jailed for targeting mobile phone shops in a £1.2m smash-and-grab spree
The men, armed with hammers and knives, broke into stores using angle grinders and attacked three security guards during the raids.
They ransacked 17 shops in London between May and November 2016, taking high-end iPhone and Samsungs headsets.
All ten, aged between 19 and 24, were found guilty of conspiracy to commit burglary at Blackfriars Crown Court.
The gang broke into the stores using fencing blocks as makeshift battering rams, which were left as a calling card.
Three security guards were beaten and one witness was threatened with a firearm during the spree.
Judge Michael Simon described the gang as "young in chronological age, but old in criminality".
"The attacks were highly organised and meticulously planned," he said.
The ten defendants and their sentences:
Courtney White, 23, of Tottenham: Jailed for 18 years with a two-year extended licence period
Mominur Rahman, 22, of Camden: Jailed for 12 and a half years
Mohammed Hussain, 24, of Hackney: Jailed for 10 years
Chang Mabiala, 21, of Islington: Jailed for eight and a half years
Mohammed Ali, 24, of Hackney: Jailed for seven years and one month
Chris Costi, 19, of Hackney: Jailed for eight and a half years
Bobby Kennedy, 22, of Islington: Jailed for 11 and a half years
Alfie Kennedy, 21, of Shoreditch: Jailed for 13 years and one month
Adam Attalah, 21, of no fixed address: Jailed for 10 years and 10 months
Dylan Castano Lopez, 20, of Camberwell: Jailed for 10 years and one month
All but one of the raids were carried out on shops run by mobile phone company Three.
The raids cost the firm an estimated £1.2m in lost stock, damage, increased security and the closing of a branch that was targeted four times.
The court heard Three attached GPS tracking devices to some phones in their stores, which were tracked when they were stolen by the gang.
Officers tracked the route that one of the phones had taken and identified two suspects.
Supt Sean Yates, from the Met Police, said: "This case has led to dangerous individuals being taken off the streets."
Related Internet Links
The BBC is not responsible for the content of external sites.