London commuter trains survey: 37% think service is worse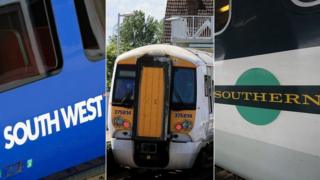 More than a third of Londoners think commuter trains have deteriorated over the last year, a new survey suggests.
The YouGov poll which surveyed 1,087 people found 37% said national rail services had worsened while eight per cent said they had improved.
The findings have been described as a "damning indictment" of rail companies.
Network Rail, which manages rail infrastructure, claims Londoners will benefit from a "huge increase in rail capacity" in the coming months.
A Network Rail spokesperson said this was due to new services, new rolling stock and a £10bn taxpayer-funded investment.
The spokesperson added: "We have the safest, fastest growing network in Europe and the railway is more reliable now than it has ever been."
'Fed up'
The poll was released ahead of an average rail fare increase of 3.4% - the biggest in five years - coming into effect.
Mayor of London Sadiq Khan said: "These latest figures are a damning indictment of the continuing failure of train operating companies to provide an adequate service for passengers.
"Londoners are fed up with repeated delays, cancelations and overcrowding.
"Growing dissatisfaction with private train companies shows why a further hike in rail fares this January is simply unjustifiable."
The mayor claimed the "only viable long-term solution" was for suburban rail services to be devolved to Transport for London (TfL).
That idea was backed by 61% of respondents as well as the Campaign for Better Transport.
The group's chief executive, Stephen Joseph, said the survey's findings "chime with our own and others' research which shows that the rail services TfL controls consistently outperform most other London rail services".
The Department for Transport (DfT) said in November it would "work with TfL to explore options for transferring selected services such as the West London line to TfL".
Network Rail said "improved working with TfL at times of disruption to the rail network would be helpful in redirecting passengers to other stations where they can complete their journeys."
A DfT spokesperson said decisions on devolution were made "based on what will make journeys better for passengers".