Will Young 'called homophobic slur by bus driver'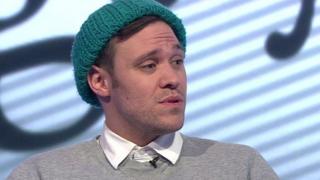 Transport for London has apologised after Will Young said he was subjected to homophobic abuse by a bus driver.
The Pop Idol winner said the driver called him a "poofter" and has appealed for help in tracking him down.
It is understood to have happened on 12 December when Mr Young was driving his car in Fulham.
TfL said it was investigating and any form of hate crime was "completely unacceptable" and would "not be tolerated".
CCTV footage
Chief executive Steve Burton said: "We're very sorry to hear of Will Young's experience, and are looking into it urgently.
"Everyone has the right to travel without fear of abuse or intimidation and if anyone witnesses or is victim to hate crime they should report it immediately.
"We work closely with our police partners to eradicate hate crimes and fully investigate all reported incidents."
Mr Young was driving his car at about 12:25 GMT when he became involved in an altercation with the driver of a bus coming towards him on the opposite side of the road, the BBC understands.
The singer, who spoke about what inspired him to come out on BBC Radio 4's Frontrow, tweeted that TfL's response had been "amazing" but he was unable to obtain CCTV footage from the area.
He called on London Mayor Sadiq Khan to help track down the driver to "ensure he doesn't abuse others".
A spokesman for the Mayor of London said: "The Mayor's Office are in touch with Will Young in regards to this incident and the work being done across the TfL network to tackle all forms of abuse including homophobic hate crime."