Staples Corner fire: Firefighters tackle paint factory blaze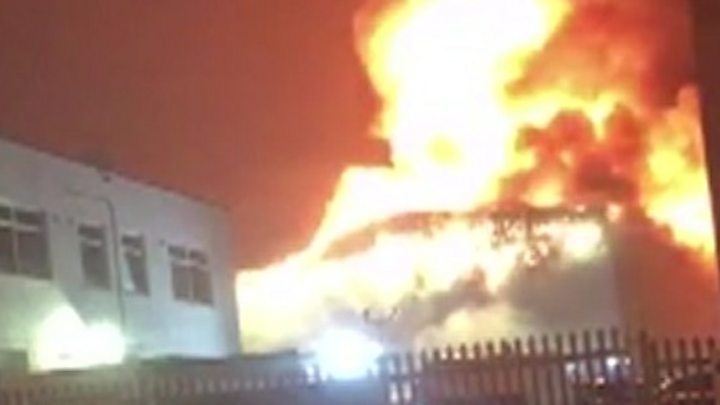 Almost 100 firefighters tackled a major blaze at a paint factory in north London.
Eyewitnesses reported hearing explosions and fireballs "shooting into the air" from the factory in Waterloo Road, Staples Corner.
London Fire Brigade said 15 fire engines were sent to the scene, near the North Circular Road.
It said workers safely left the factory before crews arrived and the cause of the fire was being investigated.
Achal Dhillon, of Hendon, less than half a mile from the scene, said the fire was burning "quite violently".
The 33-year-old described seeing fireballs being shot up to 100 metres into the air from the burning building.
He said: "Then we saw a lot of flames suddenly rise up by themselves.
"Then just this huge mountain of fire, almost pyramid shaped and spiralling as it was shooting fireballs into the air."
Mr Dhillon said there was a "huge trail of thick black smoke" and he was "amazed" at how quickly the fire service responded.
'Worked tirelessly'
Fire crews were called at 21:20 GMT on January 8 and the blaze was under control by 00:22.
Smoke and flames could be seen for miles around and people were urged to avoid the area and those living nearby to keep doors and windows shut.
The fire service said its control room had taken 99 emergency calls about the blaze.
The brigade said: "Firefighters worked tirelessly to stop the fire spreading. They will be at the scene throughout the night damping down pockets of fire."