Lady Lucan died after taking 'cocktail of drink and drugs'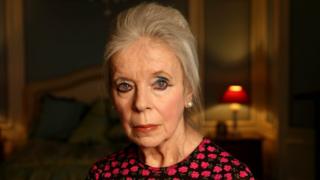 The widow of Lord Lucan died from a cocktail of drink and drugs after diagnosing herself with Parkinson's disease, an inquest was told.
Police discovered 80-year-old Lady Lucan's body after forcing entry into her London home last year.
She was found on the dining room floor with a pill bottle under her body, Westminster Coroner's Court heard.
A pathologist concluded she died from respiratory failure caused by barbiturates and alcohol poisoning.
Born Veronica Duncan, Lady Lucan was reported missing by a worried friend after not turning up for her regular walk, the inquest heard.
Police subsequently smashed a window to break into the two-storey terrace town house in Belgravia, central London, at about 17:30 GMT on 26 September 2017.
Lady Lucan, who was born in Uckfield, East Sussex, was worried she had developed Parkinson's after she noticed a tremor in her right hand, lost her sense of smell, felt tired, anxious and suffered from insomnia, as well as becoming forgetful.
The hearing was told she had attended a meeting on assisted suicide the previous year and complained of having money troubles.
Notes were found in her diary on how to take her own life if she became frail and had books on assisted dying.
'Seemed cheerful'
In one entry on 5 August last year, about six weeks before her death, she listed potential suicide items copied from four suicide books found in her house.
A later entry detailed her suspected Parkinson's symptoms, but she had not been diagnosed by a doctor, the hearing was told.
In a written statement David Davies, who had known her for two years, said: "There was nothing in her behaviour to suggest anything was wrong.
"Although she thought she had the onset of Parkinson's and had a tremor in her right hand and was worried she'd lost her sense of smell.
"We both discussed how to end our lives but only if we developed a degenerative or terminal illness or became reliant on other people.
"But there was nothing to suggest she was considering this and she seemed cheerful the last time I saw her."
Coroner Dr Fiona Wilcox recorded a conclusion of suicide.
---
Who was Lord Lucan?
Lord Lucan vanished after the body of Sandra Rivett, nanny to his three children, was found at the family home at 46 Lower Belgrave Street, central London, on 7 November 1974.
Lady Lucan was also attacked but managed to escape.
Lord Lucan's car was later found abandoned and soaked in blood in Newhaven, East Sussex, and an inquest jury declared the wealthy peer the killer of Ms Rivett a year later.
He was officially declared dead by the High Court in 1999, but has reportedly been sighted in Australia, Ireland, South Africa and New Zealand.
A High Court judge granted a death certificate in February last year allowing his son, Lord Bingham, to take over his title.
Earlier in 2017, Lady Lucan gave a television interview in which she said she believed Lord Lucan had made the "brave" decision to take his own life.
During the ITV programme she spoke of her own depression and her husband's violent nature following their marriage in 1963.