Residents asked to foot £2m bill to replace Grenfell-like cladding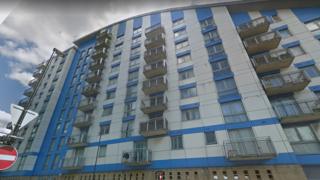 Residents of a privately-owned London tower block with the same cladding as Grenfell Tower may be forced to pay up to £2m for replacement panels.
Citiscape in Croydon was one of 228 buildings to fail safety tests after the disaster which claimed 71 lives.
With 95 flats affected, each household share could be between £13,300 and £31,300, to be paid in instalments, the Guardian newspaper reported.
First Port Property Services said safety was its "first priority".
'Out of control'
Alexandra Blanc, 37, who bought her flat in 2014, said she received a letter asking her to pay more than she earns in a year over a six-week period.
"This situation has become out of control," she said.
"I'm very worried about the prospect of losing my flat. I have contacted estate agents to try and sell it but they told me this flat will never sell under those circumstances."
Richard, the relative of a 95-year-old resident, said it was "unreasonable to make such a demand from a pensioner receiving only the state pension, being barely sufficient to cover the winter bills and his daily upkeep".
First Port said it was "committed to minimising" costs while ensuring residents were "safe and supported".
It added: "As the property manager, we are discharging our responsibilities under the leasehold agreements and working with residents as closely as possible to find a solution to this very complex situation."
The firm previously told leaseholders the cost of replacing the cladding was likely to be covered through increased service charges.
"We know that this work and the costs are unwelcome. However, as your property manager, our first priority has to be your safety," the firm said in a letter.
'Pressing need'
A First Port spokesman said: "The Government has pledged to offer support to owners and residents of high-rise buildings.
"However, given the pressing need to undertake these essential safety works and the potential costs to leaseholders, we and others in the property industry welcome any clarity the government can provide on what support will be made available."
A housing ministry spokesman said: "All of the councils and housing associations we are in discussions with have said they are not going to pass on the costs of essential fire safety measures to individual flat owners within their buildings.
"We are clear we would like to see private sector landlords follow the lead of the social sector and not pass on the costs."
The case is to be taken to a first-tier property tribunal which will determine who should foot the bill on 6 February.