Crossrail: Concerns over project as completion draws nearer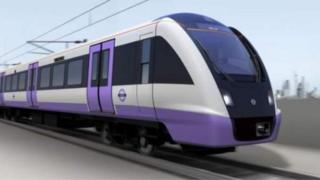 Crossrail is 90% complete but concerns are growing as we tread closer to the finishing line.
This week we heard Crossrail could go over budget and even miss its December 2018 opening date.
If you want information in the public domain, the Transport to London (TfL) Board is a good place to start.
It helps even more to mention it again at the London Assembly Transport Committee the next day.
Twice this week we have had warnings about Crossrail - almost like we are having our expectations managed.
Wobbles began with stations in west London - Acton, Ealing Broadway, West Ealing, Southall - and Hayes and Harlington stations, being delayed.
There are serious concerns about the power or "energisation" (turning on high voltage power) of the scheme after a design error caused equipment at Pudding Mill Lane sub-station to blow up on 11 November 2017, when two voltage transformers failed.
Crossrail has since confirmed the second attempt at "energisation" was successful in the early hours of Thursday morning.
Despite the progress, testing will now be postponed until the end of February.
Another concern is getting the new trains to communicate with Crossrail's three different signalling systems.
The TfL Board was told it was a "very, very difficult" process.
An expert told me installing one system was problematic enough, while insiders spoke of delays at Whitechapel and Woolwich stations.
With this in mind, Crossrail's mantra of being "on time and on budget" is under scrutiny.
Terry Morgan, Crossrail's chair, told TfL's Board: "We are still supporting a revised plan between ourselves and TfL about delivering the railway for 2018 but we're very close on the funding envelope and we're certainly going to have to continue to work together to make sure we get this railway running this year."
London Mayor Sadiq Khan told me ensuring the Elizabeth Line opened on time was going to be "tough work".
"The last part of any big project is always the hardest but I have confidence in the Crossrail and TfL teams," he said.
On course
"We're putting pressure on the private contractors to make sure they deliver on time.
"I was reminded that when the Jubilee Line extension opened it was over budget, went over time and the testing was done quite late.
"We're not over budget, we're not behind time, we're confident it'll open towards the end of this year."
A spokesman for Crossrail said: "The Elizabeth Line is being delivered within it s available funding. Overall the Crossrail project, which is now 90% complete, remains on time.
"Understandably, as a project of this scale and complexity reaches the final stages, it faces some increasing cost and schedule pressures and we continue to manage this.
"The Elizabeth Line remains on course to open as planned in December 2018."
Crossrail's revenues are also critical to TfL's finances which, as we've said before, are under pressure.
Let's hope Crossrail's words do not come back to bite them.