Missing Nigerian masterpiece found in north London flat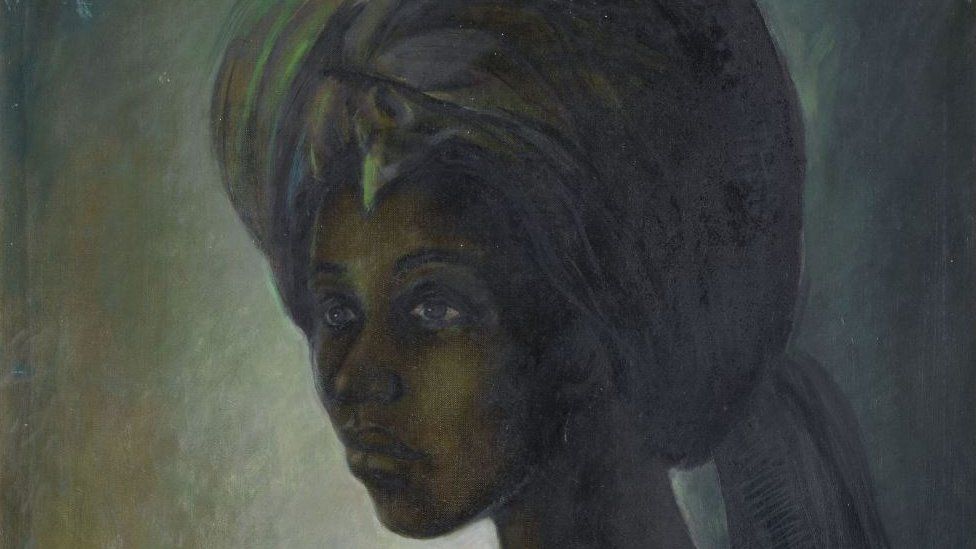 A missing Nigerian masterpiece has been found in a "modest north London flat".
Ben Enwonwu's 1974 painting of the Ife princess Adetutu Ademiluyi, known as Tutu, became a symbol of reconciliation after the Nigerian-Biafran conflict.
The painting is expected to sell for £300,000 at auction - a record for a modern Nigerian artist.
Booker Prize winning novelist Ben Okri called it "the most significant discovery in contemporary African art in over 50 years".
"It is a cause for celebration, a potentially transforming moment in the world of art," he added.
Mr Enwonwu, considered the father of Nigerian modernism, painted three versions of Tutu.
All three went missing after his death in 1994. The whereabouts of the other Tutu paintings remain a mystery.
Giles Peppiatt, director of modern African art at auction house Bonhams, made the discovery after he was invited to appraise artworks at a "modest north London flat".
Mr Peppiatt said he is regularly asked to appraise versions of Tutu, which turn out to be copies.
The appearance of the original painting is "a momentous event and we expect it to generate enormous interest," Mr Peppiatt said.
It is not known how the piece came to be in north London, and the owners have requested anonymity.
The painting is to be auctioned at Bonham's on 28 February.
Mr Enwonwu was a student at Goldsmiths, Ruskin College, Oxford, and the Slade art school in England in the 1940s.
He became more widely known when he was commissioned to create a bronze sculpture of the Queen during her visit to Nigeria in 1956.
Related Internet Links
The BBC is not responsible for the content of external sites.