London Zoo fire cause still unknown ahead of stocktake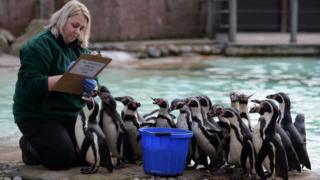 The cause of a fire which ripped through London Zoo before Christmas is still not known, as the yearly stocktake gets under way.
An aardvark and four meerkats were killed in the blaze that took 70 firefighters to tackle and left nine people injured on 23 December.
The fire delayed the annual stocktake of 19,000 animals by more than a month.
Zoo manager Mark Haben said it was "early days, we don't know the cause of the fire". An investigation is ongoing.
Mr Haben said the incident had brought staff at the zoo together in preparation for the new breeding season.
The zoo reopened on Christmas Eve, but the stocktake - scheduled to take place on 2 January - was postponed to "get more staff involved" and give the zoo more planning time.
With more than 700 species to be counted the stocktake will continue throughout the week.