Man mowed down in Finchley car park murder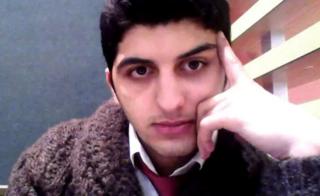 A disqualified driver has been found guilty of murdering a man he mowed down in a car park.
Seyyed Rasta Mir-Feyzi, 24, was hit by a white BMW in Great North Leisure Park in Finchley on 31 May.
He was airlifted to hospital but died from a head injury the following day, post-mortem tests showed.
Haaris Rana, 22, was convicted of murder by an Old Bailey jury on Friday. Yasir Ibrahim, 22, was convicted of attempting to cause GBH with intent.
The Crown Prosecution Service (CPS) said Rana, from West Drayton, had been disqualified from driving for 18 months at the time of the murder.
Mr Mir-Feyzi, from North Finchley, was sitting in a parked vehicle with two friends when Rana and Ibrahim began to goad them, the CPS said.
The group got out of their car before Ibrahim, from East Finchley, drove a car at Mr Mir-Feyzi and his friends, who all dodged out of the way, the CPS said.
Rana then drove the rented BMW at speed into Mr Mir-Feyzi, it added.
'We are broken'
Mr Mir-Feyzi had recently completed a degree in computer network security at Westminster University.
His father, Mr Mir-Feyzi - who did not wish to give his first name - said Rana "killed my family and me too".
"I feel like I have lost a part of my body. Knowing that he can never come back has left me and my wife broken," he added.
Mr Mir-Feyzi said his son planned to join the Royal Navy or the police and "would have gone on to do great things".
His two kidneys, liver and heart were donated, saving four people's lives, the family said.
Olcay Sapanoglu, from the CPS London homicide unit, said the "chance encounter" between the two groups led to a "senseless murder".
"The Crown Prosecution Service took the decision not to prosecute this case as death by dangerous driving but in fact murder because of the strong evidence that showed Rana had intended to kill his victim, or at the very least cause him really serious harm," he added.
The pair will be sentenced on Wednesday.