London City Airport shut as WW2 bomb found near Thames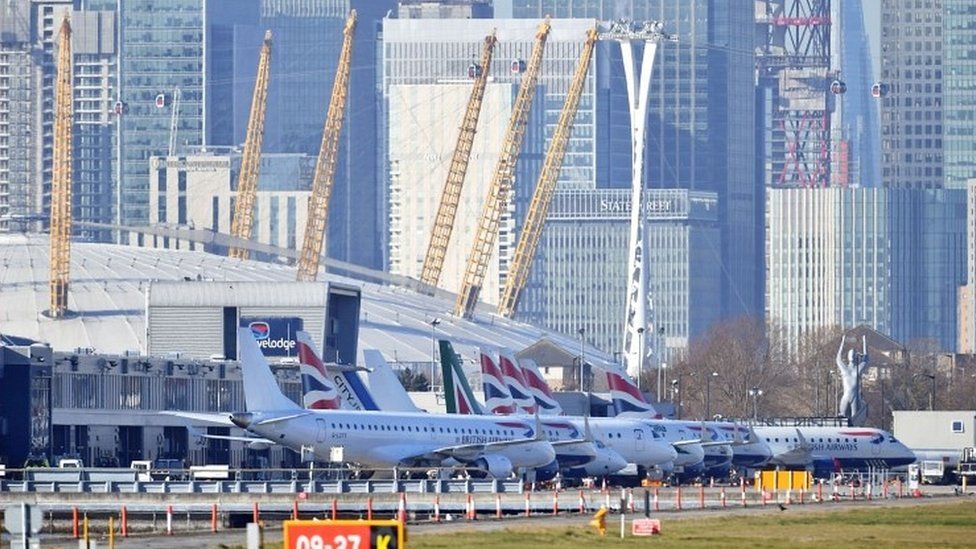 An operation to remove a 500kg World War Two bomb that has forced the closure of London City Airport will continue through the night.
The airport has been shut all day and all flights cancelled, affecting up to 16,000 passengers, officials said.
The bomb was found at George V Dock on Sunday during planned work at the east London airport.
The Royal Navy said the bomb would be exploded underwater overnight and the airport should reopen on Tuesday.
Police have confirmed families who were evacuated from around the site can return to their homes after the device was moved to another location in the dock.
However, a new cordon area around some roads south-east of the airport will come into effect from 21:00 GMT as the ordnance is transported further.
A tunnel used by some rail services from St Pancras International will also be closed around midnight.
The airport was shut at 22:00 GMT on Sunday when the bomb was discovered lying in a bed of silt 15m underwater.
Lieutenant Commander Jonny Campbell, who is leading the bomb disposal diving unit, said the 1.5m-long device would be floated down the River Thames and "high-grade military explosives" would be attached to it.
He said his team had "a long night ahead" before the bomb is finally destroyed underwater on Tuesday morning.
According to the airport's website, a total of 261 arrivals and departures had been scheduled for Monday.
"All flights today are cancelled but some airlines have moved their flights to other airports - CityJet to Southend and Alitalia to Stansted", the airport said.
Among passengers affected were Tottenham Hotspur fans heading to Italy for a Champions League game against Juventus.
The north London club advised any fans flying to Milan to "contact their airline as soon as possible", ahead of the match in Turin on Tuesday.
Spurs fan David, 52, was booked to fly to Milan on Monday before taking a connecting train to Turin ahead of the Champions League away match.
British Airways has now booked him onto a new flight on Tuesday, he said, but he was disappointed he has lost a hotel night in Turin.
"There's no sense of 'you're out of pocket for a night in a hotel'," he said.
Robert Sinclair, CEO of the airport, apologised and said: "The airport is cooperating fully with the Met Police and Royal Navy and working hard to safely remove the device and resolve the situation as quickly as possible."
Airlines using London City Airport include British Airways, Flybe, CityJet, KLM and Lufthansa, with flights to domestic and European city destinations.
Police said a 214-metre exclusion zone had been set up and properties inside were evacuated.
A rest centre was opened by Newham Council to provide bedding and refreshments for families affected.
You may also be interested in:
One passenger arriving at the airport had been hoping to board a flight to Milan.
"We don't know what to do", the passenger told BBC London.
"We're going back to the city to get more information as there's nobody here to help. We'll have to call our airline and hopefully we'll arrive back in Milan soon."
The roads affected by the latest exclusion zone are Woodman Street, Milk Street, Fishguard Way, Barge House Road and parts of Grimsby Grove.
Newham Council has advised families affected "to make arrangements to stay with family and friends".
Following the discovery of a World War Two ordnance in King George V Dock as part of planned development works, a 214m exclusion zone has been implemented as a precaution by the Met Police. As a result, London City Airport is currently closed. (1/3)

— London City Airport (@LondonCityAir) February 11, 2018
Docklands Light Railway services between the airport and Woolwich Arsenal have also been suspended.
Update: For the rest of today, there will be no service between King George V and Woolwich Arsenal at police request following the discovery of a WWII bomb near London City Airport.

— Docklands Light Railway (@LondonDLR) February 12, 2018
Passengers took to social media to express confusion and frustration.
Twitter user Richard Macey talked about his Dublin flight being cancelled.
Flight to Dublin from @LondonCityAir cancelled due to a WWII bomb, looks like I'll be working in London today then.

— RICHARD MACEY (@RICHARDMACEY007) February 12, 2018
Another user said they were attempting to book a new flight to Aberdeen.
At the scene: Greg McKenzie, BBC Radio London
People have been arriving at London City Airport DLR station - many with suitcases and some unsure about what is happening.
I've managed to get into a tower block in Silvertown - directly opposite the airport where 15-20 police vans are blocking each entrance to the estate.
From the 10th floor I can see the runway - which is empty.
On a usual Monday you'd expect a plane landing every 20 minutes.
I saw about 10 British Airways planes grounded at the airport.
Last year, more than 4.5 million passengers used London City Airport.
A £400m expansion was given the go-ahead by ministers in July 2016, which includes extending the terminal.
Related Internet Links
The BBC is not responsible for the content of external sites.