London City Airport reopens after WW2 bomb moved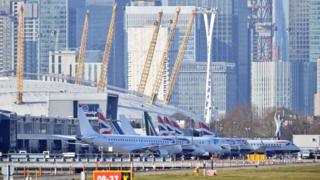 London City Airport has reopened after an unexploded 500kg World War Two bomb was safely moved from the area.
The device was discovered at the King George V Dock on Sunday during planned work at the east London airport.
All flights were cancelled on Monday after an exclusion zone was put in place, with the closure affecting up to 16,000 passengers and nearby residents being evacuated from their homes.
The bomb is set to be detonated in a controlled explosion on Wednesday.
Royal Navy divers worked through the night to move the 1.5m-long German bomb down the Thames.
Divers took the device - which was found in a bed of silt, 15m underwater - out to sea.
Cdr Del McKnight said it had been taken to the sea bed, a mile away from the coast, before military explosives were placed on it.
Detonation, which will take place off Shoeburyness, Essex, was postponed earlier because high winds and a sea swell created dangerous conditions for divers.
"The bomb presents no risk to the public in its current location, so we will leave it where it currently sits until tomorrow," Cdr McKnight said.
"It's been put in 10m of water so we are expecting quite a large plume when we explode it.
"It's not everyday we find a bomb this big, it is one of the larger bombs the Germans dropped."
London City Airport's chief executive Robert Sinclair said it would be "business as usual" on Tuesday.
The airport's terminal building reopened at 04:30 GMT and the runway opened at 06:30.
Mr Sinclair thanked those affected for their "patience and understanding" during the disruption.
A total of 261 arrivals and departures had been scheduled for Monday.
Residents who were evacuated to temporary accommodation have been told they can return to their homes.
A tunnel used by some rail services from St Pancras International was also closed around midnight, affecting services.
Between September 1940 and May 1941, the Germans dropped about 24,000 tonnes of explosives on London - but 10% of all bombs that dropped did not detonate, according to historians.
Last year, more than 4.5 million passengers used London City Airport.
A £400m expansion was given the go-ahead by ministers in July 2016, which includes extending the terminal.