Huge Greenford warehouse blaze 'under control'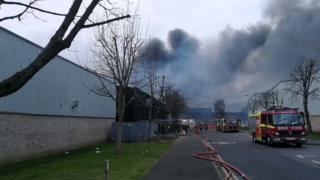 A huge fire which broke out at a north-west London industrial estate on Monday night is now under control.
More than 120 firefighters were tackling the blaze at Long Drive, Greenford, for almost 16 hours after they were called at about 23:30 GMT.
Four business units were alight, three of which were said to be "badly affected", before the fire was put out at about 15:15 GMT.
The London Fire Brigade said strong winds had been "hampering" its efforts.
It said it was "likely to remain at the scene for the rest of the day".
A spokesman for the service said 35 firefighters and six engines are currently on scene "as a precaution" and are expected to remain there for the rest of the evening.
A warning previously issued to residents to keep their windows and doors shut due to thick smoke has been lifted, the spokesman added.
Wayne Johnson, from the brigade, praised firefighters' work in preventing the flames from spreading to nearby shops.
Station manager Ben King described the fire as "very visible".
Long Drive is closed in both directions due to the blaze, as are Chartwell Close and Norwich Road.
The cause is not yet known.
Belazu Ingredient Company, based at the site, told its customers via Twitter they would "not receive their orders today due to a huge fire close to Belazu HQ".