London mayor gives extra £59m to 'stretched' Met Police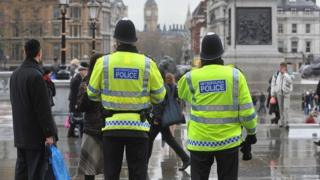 The London mayor has announced an extra £59m per year in funding for police that would normally have been spent on other areas such as transport.
The sum, paid for by business rates, will support an extra 1,000 officers, Sadiq Khan said.
The Met will remain "severely stretched" despite the investment, he said.
Small businesses welcomed the extra cash but urged police to use it to protect them from crime.
The mayor receives about £2.3bn a year from local authorities through business rates, but the annual total varies.
A spokeswoman said this year the total was more than expected, which meant Mr Khan could be more flexible about how to spend it.
The £59m will be in addition to the extra £49m Mr Khan has pledged to police after he raised council tax across London.
The mayor's team calculates the Met will need to find an extra £325m of savings before April 2021.
London Assembly Conservative member Steve O'Connell said: "With a £16bn budget at his disposal, Sadiq Khan has long had the resources to bolster police funding, so why did he not do this last year?
"No-one would argue against more money from central government, but Sadiq Khan must make the most of what is at his disposal."
Sue Terpilowski OBE, London policy chair for the Federation of Small Businesses, said: "We have seen a spate of attacks on small businesses recently which is why we urge the mayor to ensure the extra funds being assigned through business rates are focussed on supporting local communities and Neighbourhood Policing Units in tackling business crime."