Homeless man found dead 'on doorstep' of Parliament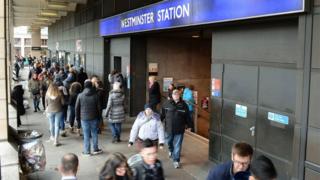 A man has been found dead in a Tube station underpass that leads to the Houses of Parliament.
The man was homeless and often seen at the entrance to Westminster underground station, politicians said.
MPs have called on the government to make a commitment to end rough sleeping after the "terrible tragedy".
The Metropolitan Police said it was treating the death of the man, who was confirmed dead at the scene, as unexplained, but not suspicious.
The man was discovered not breathing, next to the underpass in exit three of the station, on Wednesday morning.
The Ambulance Service said they tried to resuscitate him but he died at about 07:33 GMT.
'Moral challenge'
Labour leader Jeremy Corbyn's staff are thought to have been in contact with the man, often bringing him food.
Mr Corbyn wrote on Twitter: "The powerful can't carry on walking by on the other side while people don't have a home to call their own.
"It's time all MPs took up this moral challenge and properly housed everyone."
Shadow education secretary Angela Rayner also called for change.
She said: "Whatever the circumstances it's a terrible tragedy that somebody ends their days like this, the govt must do more to combat homelessness."
Labour MP Neil Coyle added: "When a homeless man dies on the Government's doorstep, ministers must stop ignoring the problem and commit to end rough sleeping."
A spokesman said the House of Commons was "saddened" by the death and offered condolences to the man's family and friends.