Finchley car park killer jailed for 19 years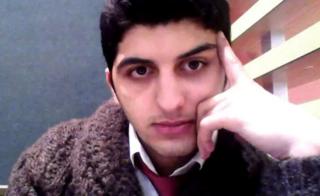 A disqualified driver has been jailed for a minimum of 19 years for murdering a man he mowed down in a car park.
Seyyed Rasta Mir-Feyzi, 24, died after Haaris Rana drove into him outside a leisure centre in Finchley in May 2017.
He was airlifted to hospital but died from a head injury the following day.
Rana, 22, was handed a life sentence at the Old Bailey on Wednesday. Yasir Ibrahim, 22, was sentenced to eight years in prison for attempting to cause GBH with intent.
The Crown Prosecution Service (CPS) said Rana, from West Drayton, had been disqualified from driving for 18 months at the time of the murder.
Mr Mir-Feyzi, from North Finchley, was sitting in a parked vehicle with two friends when Rana and Ibrahim began to goad them.
The group got out of their car before Ibrahim, from East Finchley, drove a car at Mr Mir-Feyzi and his friends, who all dodged out of the way, the CPS added.
Rana then drove a rented BMW at speed into Mr Mir-Feyzi.
Mr Mir-Feyzi had recently completed a degree in computer network security at Westminster University.
Det Ch Insp Gary Holmes said: "It's likely that Rana, who suffers from a brain condition, will spend the rest of his life behind bars. I hope this brings some sort of justice to Mr Mir-Feyzi's family."