Man jailed for murdering French tourist in London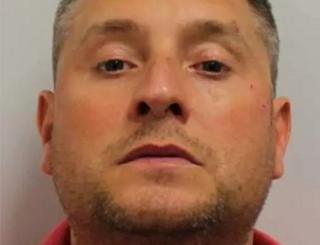 A man who murdered a French tourist who was on holiday with his family in London has been jailed for life.
Nicholas Foy stabbed Laurent Volpe in the stomach in Eltham during an alcohol and cocaine binge on 11 August last year, the Old Bailey heard.
Mr Volpe, 49, had stepped outside for food when he was followed by Foy and attacked. He was taken to hospital but died three days later.
Foy, 39, of Eltham, was ordered to serve a minimum of 17 years in prison.
Det Ch Insp John Marriott described the killing as a "completely unprovoked attack on an innocent man who was holidaying in London".
"Although Foy admitted having been on a drug binge in the hours leading up to the murder, this in no way excuses his actions that evening," he said.
Foy, who was wearing just a pink pair of shorts when he stabbed Mr Volpe, was arrested soon after the attack after he threatened three people with a large knife.
The Met said he assaulted a police officer during his arrest then attacked another as he was being taken to hospital for treatment to self-inflicted wounds to his foot.