Poundworld Croydon fined for mice infestation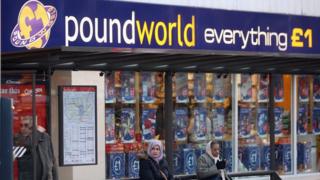 Discount retailer Poundworld has been fined £1.2m after an "out-of-control" rodent infestation was discovered in one of its stores.
Mouse urine and faeces was found on products and packaging, some of which had been gnawed and taped back together, at the shop in Croydon, south London, in February 2016.
Poundworld was fined on Friday for food safety and health and safety offences.
It said "the unacceptable conditions" should "never happen again".
Croydon Council officers who reported the infestation said the shop floor was "dirty and littered with mouse droppings" and the food on display was gnawed.
Poundworld staff had "repaired" some products' nibbled packaging with adhesive tape and returned them to the shelves for sale, officers said.
The basement and storage areas were also found to be contaminated with mouse droppings, while some areas were in darkness with "very poor visibility".
Officers said staff had to carry items up to the shop floor because the goods lift was out of commission.
Additionally there was no hot water, inadequate heating and poor housekeeping, which resulted in stock being left in a "haphazard and dangerous manner", they reported.
A Poundworld spokesperson said the store was inspected again by food and safety officers in September 2016 and was awarded a four-star rating, adding: "We have taken the necessary steps to help ensure that the unacceptable conditions found at our Croydon store never happen again."