Grenfell fraud accused 'was in Sutton on night of fire'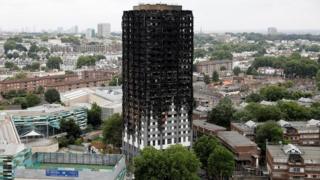 A woman accused of posing as a victim of the Grenfell Tower fire was in her south-west London flat on the night of the tragedy, a court has heard.
Joyce Msokeri, 47, allegedly claimed goods, accommodation and cash handouts after saying she had lost her home and husband in the disaster.
Southwark Crown Court heard cell site data showed the 47-year-old's phone had never been used near the Grenfell site.
She denies three counts of fraud and a charge of possessing a false document.
The jury heard Ms Msokeri was at her flat in Ambleside Gardens, Sutton, the morning after the fire on 15 June where she spent an hour on the phone to Sky complaining she had been charged an extra £1.50 over an unpaid bill.
In the afternoon she allegedly went to the Westway Centre to make claims to volunteers and later filled a hotel room at the Hilton Hotel with goods intended for survivors.
'Skill at manipulation'
The jury heard she had used her own phone handset with a different sim card and posed as her sister to report herself as missing following the blaze.
Her story came into question when Ms Msokeri was unable to give the number of her flat in the tower despite having claimed she lived there for five months.
She also claimed that her missing husband appeared in footage from the blaze showing two men and two women even though both of the men had been identified by their own families, the court heard.
Giving his closing speech, prosecutor David Jeremy QC said evidence against Ms Msokeri "proves that she is guilty over and over again".
"She committed these crimes through greed and she got away with it for a certain amount of time through her skill at manipulation," he said.
Earlier, jurors were told Ms Msokeri had been admitted to hospital but the trial would go on in her absence.
The trial continues.