London's top tourist attractions see visitor numbers fall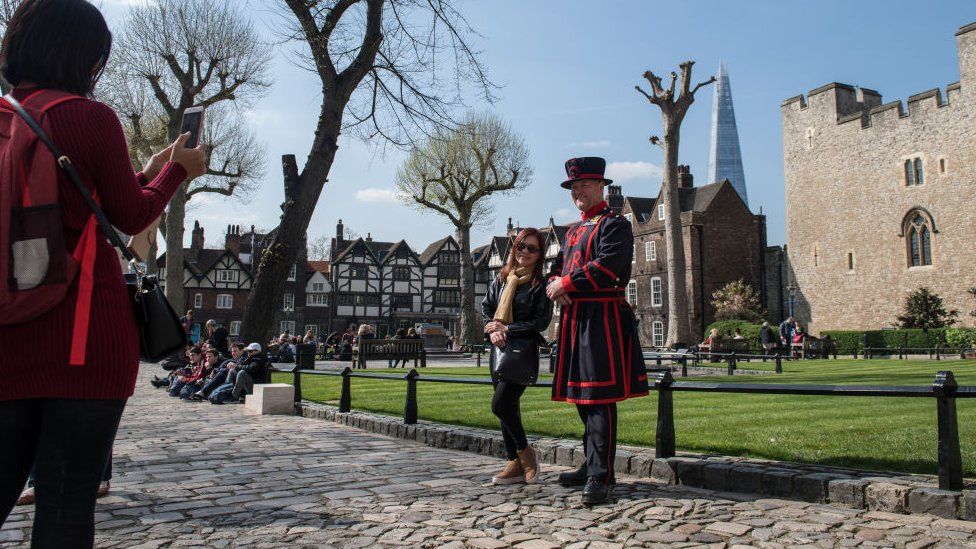 Visitor numbers fell at London's top tourist attractions last year due to the high cost of travel, food and drink costs, a tourism chief has said.
The UK's top 10 attractions, including the British Museum and Tate Modern, got nearly 1.7 million fewer visitors.
Bernard Donoghue, of the Association of Leading Visitor Attractions (Alva), said visiting London was too expensive for many people.
There was 7.3% increase in visitors across the UK's top 238 attractions.
Figures released by Alva showed attractions across London as a whole saw a 1.2% rise in 2017 compared to the previous year.
"Economic factors have had an impact on UK visitors to central London, with associated evidence that the costs linked with a visit such as travel, food and drink have played an important part in deciding where to visit," said Mr Donoghue, director of Alva.
Recent terror attacks had put some people off visiting, he acknowledged, but added that "economic concerns are playing a more crucial part".
Almost one in five trains run by Govia Thameslink Railway (GTR) - which owns four south-east England franchises - was more than five minutes late last year, Network Rail figures show.
"Passengers regularly using GTR during the week don't want to use it at weekends, and so visit attractions nearer to home," said Mr Donoghue.
Top 10 UK visitor attractions in 2017
British Museum - 5.9 million visits
Tate Modern - 5.7 million
National Gallery - 5.2 million
Natural History Museum - 4.4 million
V&A Museum - 3.7 million
Science Museum - 3.3 million
Southbank Centre - 3.2 million
Somerset House - 3.2 million
Tower of London - 2.8 million
Royal Museums Greenwich - 2.6 million
Big exhibitions also helped attractions draw visitors away from their rivals, the figures show.
The Pink Floyd exhibit at the V&A helped drive visitor numbers up by 26% to 3.8 million.
For the first time in four years, some of the UK's most visited attractions outside London were in Scotland.
The National Museum of Scotland was 11th overall with 2.2 million visitors, up 20% on 2016, with Edinburgh Castle in 12th with a 16% increase to 2.1 million.
Outside London and Scotland, the only other attractions to make it into the top 20 were Chester Zoo and Stonehenge, Wiltshire.
Related Internet Links
The BBC is not responsible for the content of external sites.