Ex Crystal Palace boss Simon Jordan robbed at gunpoint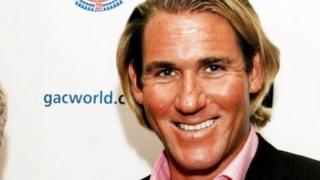 Ex-Crystal Palace owner Simon Jordan has described being robbed of his £100,000 watch by a masked man on a motorbike who waved a gun in his face.
The 50-year-old said the suspect pulled up alongside his Maserati at traffic lights in Croydon at about 13:00 GMT.
Mr Jordan said the timepiece, bought to celebrate Palace's promotion, held "sentimental value".
Police urged anyone who is offered a "rare, white gold, blue-faced Franck Muller watch" for sale to contact them.
Mr Jordan told the BBC he was taking his father to the doctors in West Croydon when he was confronted.
'Terrifying ordeal'
He said the robber had a "desperate courage" to do such a thing in the middle of the day.
"I was just sat in my car when I heard someone scream through my window and demanded I gave him my watch and pointing a gun in my face", he said.
"I'm pleased nobody was hurt but the watch held sentimental value - I bought it to celebrate Crystal Palace's promotion to the Premier League."
The suspect who was wearing black clothing with a black a grey motorcycle helmet fled down London Road towards west Croydon, the Met said.
DS Tim Walter said: "This was a terrifying ordeal and robbery of a man sat in his car waiting at a traffic light.
"My team are doing everything they can to identify the culprit and bring him to justice. This involves the recovery of local CCTV footage and ongoing forensic work.
"The item stolen is a rare white gold, blue faced Franck Muller watch. If you are offered this item for sale or have on information on its whereabouts I would urge you to get in touch."
Jordan was chairman at Selhurst Park between 2000 and 2010 - becoming the youngest chairman of a Football League club aged 32.