Ellie Butler inquest: Grandfather says six-year-old's killer father was 'brutal maniac'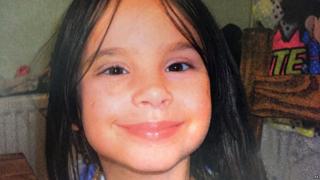 A man whose six-year-old granddaughter was battered to death has told an inquest her killer father was a "brutal maniac" and her murder was "avoidable".
Ellie Butler was placed in the care of her grandparents, Linda and Neal Gray, after her father Ben Butler was accused of shaking her as a baby.
But she was returned to her parents' south London home when his conviction was quashed. She died 11 months later.
Social workers agreed with Mr Gray's claim that they "failed" Ellie.
Butler was jailed for a minimum of 23 years for inflicting catastrophic head injuries on Ellie while looking after her at their home in Sutton.
Mr Gray told South London Coroner's Court on Thursday that his "whole world caved in" when Ellie was killed.
In a statement read to the inquest, Mr Gray said Ellie had told him and his wife - who died on the first day of Butler's trial - she wanted to stay with them for "100 million years" rather than live with her parents.
He added that his daughter, Ellie's mother Jennie Gray, was "just as culpable" as Butler for what happened.
"She stood by and watched that brutal maniac inflict unimaginable injuries, and she defended him without question or remorse," he said.
"[Ellie] was placed at fatal risk by being returned to her parents. Her death had been avoidable.
"The circumstances surrounding it must be avoided so that lessons may be learned and other children protected in the future. Her death cannot have been in vain."
The inquest is examining whether there were failures on the part of the authorities in the lead up to Ellie's murder. The judgement is due on 10 April.
Mr Gray said staff at Services for Children (S4C) had "failed in their duty" to Ellie.
Social worker Steven Atherton admitted S4C was "part of a system that failed this little girl".
Earlier on Thursday, Butler gave evidence to the inquest via video link from prison and repeatedly denied killing Ellie, or abusing her in any way.
He said: "I don't accept I caused harm to Ellie and will fight in a different court to prove it.
"I didn't cause Ellie to die, I didn't cause any injury to Ellie at all."
He said he will appeal against his conviction.
He did admit being verbally abusive to Ellie's mother after texts were read to the inquest.
"I realise the texts were horrendous, the things I had said. For me it was saying bad things in the heat of the moment but I'm pretty ashamed of myself," he said.
"But to say [if] you're being abusive to your partner [then] you must be abusive to your children, that's two different things."
Gray told Ellie's inquest via video link that Butler's "bark was worse than his bite".
She is serving a 42-month jail sentence for child cruelty and perverting the course of justice.