Sophie Lionnet death: Boyzone founder 'never heard' of French nanny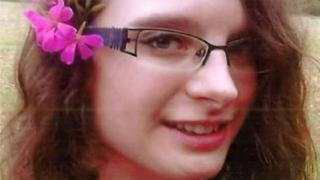 A former member of Boyzone embroiled in the murder case of his ex-girlfriend's French nanny told jurors he "never, ever" had any contact with the victim.
Mark Walton was allegedly a focal point of his former partner's campaign of torture against Sophie Lionnet.
Sabrina Kouider, 35, and Ouissem Medouni, 40, beat the 21-year-old au pair into a confession that she was in league with Mr Walton to spy on the family, the Old Bailey heard.
They deny killing her hours later.
Ms Lionnet's body was thrown on to a bonfire in their garden in Southfields, south-west London, the court heard.
Giving evidence, Mr Walton, who is based in Los Angeles, told jurors his ex-partner, Ms Kouider, would "flip" during their two-year turbulent relationship.
He would support the fashion designer with thousands of pounds every month, even paying her rent long after she left him, he told the court.
On their relationship, he said: "It was turbulent, probably the most turbulent relationship I had ever been in.
"She would go from a softly spoken French accent, then she would flip, get very angry, very loud and just not care where we were.
"She would just go crazy over something trivial."
The first he heard about Miss Lionnet was on 21 September last year when he was contacted by murder detectives, he said.
Referring to accusations levelled at him by Ms Kouider, prosecutor Richard Horwell QC said: "Have you ever been party to a plot to drug the people in the Wimbledon flat and, whilst unconscious, sexually abuse the occupants?"
Mr Walton said: "Absolutely not."
He said the last time he was in the UK was when he went to a meeting in October 2015 and he told jurors he had "never, ever" heard of Ms Lionnet or ever been in contact with her.
Mr Walton told jurors he "created" Boyzone in 1993 and was in the band for about a year before going on to be involved in Fifth Avenue.
---
Who is Mark Walton?
1993: Auditions take place for a new Irish boyband. Mark Walton, along with Keith Duffy, Ronan Keating, Shane Lynch and Richie Rock form Boyzone and are later managed by Louis Walsh
1994: Mark Walton and Richie Rock leave the band
2000s: After Boyzone, Mr Walton sets up a band called Fifth Avenue, and also gets involved with the management of Irish girlband B*Witched
2015: Mr Walton appears as a judge on Vietnam's Pop Idol
2017: Mr Walton named during the murder case of his ex-girlfriend's French nanny
---
By the time he met Ms Kouider in 2011 he was doing well financially in the music business, he said.
Mr Walton said he paid for Ms Kouider's nannies but she would fire them over accusations of stealing and of being interested in him, the court heard.
"I actually challenged Sabrina on this. I did not believe her," he told the court.
Ms Kouider and Mr Medouni have admitted perverting the course of justice but deny murder.
The trial continues.