Hatton Garden heist: Man, 57, charged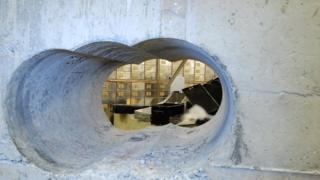 A man has been charged in connection with the Hatton Garden heist three years ago in which £13.7m worth of valuables were stolen.
Michael Seed, 57, was arrested after police searched a property in Islington at 07:30 BST on Tuesday.
Mr Seed was charged on Wednesday with one count of conspiracy to burgle and one count of conspiracy to conceal or disguise criminal property.
He will appear at Westminster Magistrates' Court on Thursday.
Six men have already been jailed for their part in the raid over Easter weekend in 2015.
Disguised as workmen, they entered through a lift shaft and used a heavy duty diamond-tipped drill to cut a hole through the vault wall which was big enough for two men to squeeze through.
The gang then raided 73 safety deposit boxes, stealing valuables including gold, diamonds and sapphires.
The raid was one of the biggest in UK history.