Disabled doctor left 'stranded' on London train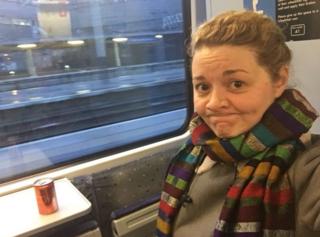 A disabled doctor said she was left feeling "worthless" when she was stranded on a train in her wheelchair.
Dr Hannah Barham-Brown said passengers had to fetch a ramp to get her off the train at Euston station on Wednesday evening when no staff arrived to help.
She said she almost missed her train to Birmingham the same day, when staff at Euston did not meet her off the Tube.
Network Rail said it "clearly" needs to do more to improved disabled access.
Dr Barham-Brown, who works at St George's Hospital, Tooting, south London, had been travelling to a conference about doctors with disabilities.
After getting the Tube from her home in Earlsfield to King's Cross, she had to wheel herself up the pavement to Euston because there was no step-free access from Euston underground station to the train platforms.
'A lesser citizen'
She said she had to lean her head out of the door and "yell to get off the train" when she arrived at Birmingham International station.
Hours later, she experienced a similar thing in Euston when two passers-by had to help her on to the platform.
The junior doctor, 30, said such incidents were "no surprise" but made her want to give up on public transport.
"They just make me feel kind of worthless in a way - like my day doesn't matter, my job doesn't matter," she said.
"It makes you feel like a lesser citizen."
Dr Barham-Brown has a connective tissue disorder called Ehlers-Danlos syndrome, which means her joints are prone to dislocating.
Although she can get around on crutches, using a wheelchair means she is safer, in less pain, and can therefore continue to work full time.
But problems using the chair across London mean she is often forced to leave it at home.
"I travel with my crutches, even though that will mean I'm in quite a lot of pain," she said.
"If I have to get to a meeting, that's what I have to do."
A West Midlands Railway spokesman said: "This should not have happened. We are responsible for the customer and we are sorry."
The Rail Delivery Group - which represents Network Rail - said: "Train travel has become far more accessible in recent years but there is clearly still more to do."
It said it is making 110 more stations step-free over the next two years and making it easier for people to book assistance.
Mark Evers, London Underground's chief customer officer, said "there's more to do" to help disabled people use the Tube.
He said the Underground was investing £200m to boost to step-free access.