Crystal Palace release CGI image of Selhurst Park plans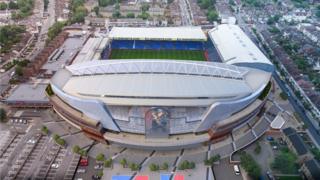 An aerial CGI image has been issued of how Crystal Palace's stadium would look if plans for redevelopment that would cost up to £100m are approved.
The image indicates that six homes would be demolished as part of the revamp of Selhust Park that would see capacity rise to more than 34,000.
Chairman Steve Parish said the project would be "overwhelmingly positive for south London".
Croydon Council's planning committee is set to discuss the plans in April.
The full revamp, which would include a new five-storey Main Stand, is expected to take three years to complete. The club said work could begin "within 12 months".
KSS, the architects behind the project, have previously redeveloped sporting venues including Anfield, Twickenham and Wimbledon.
Palace have been wanting to improve Selhurst Park since they were promoted to the Premier League in 2013.
Six homes on Wooderson Close would have to be knocked down but the club said it would pay for new homes to be built and for the people affected to be relocated.
Croydon Council has been contacted for comment.