London shootings: Boy, 16, dies after second fatal attack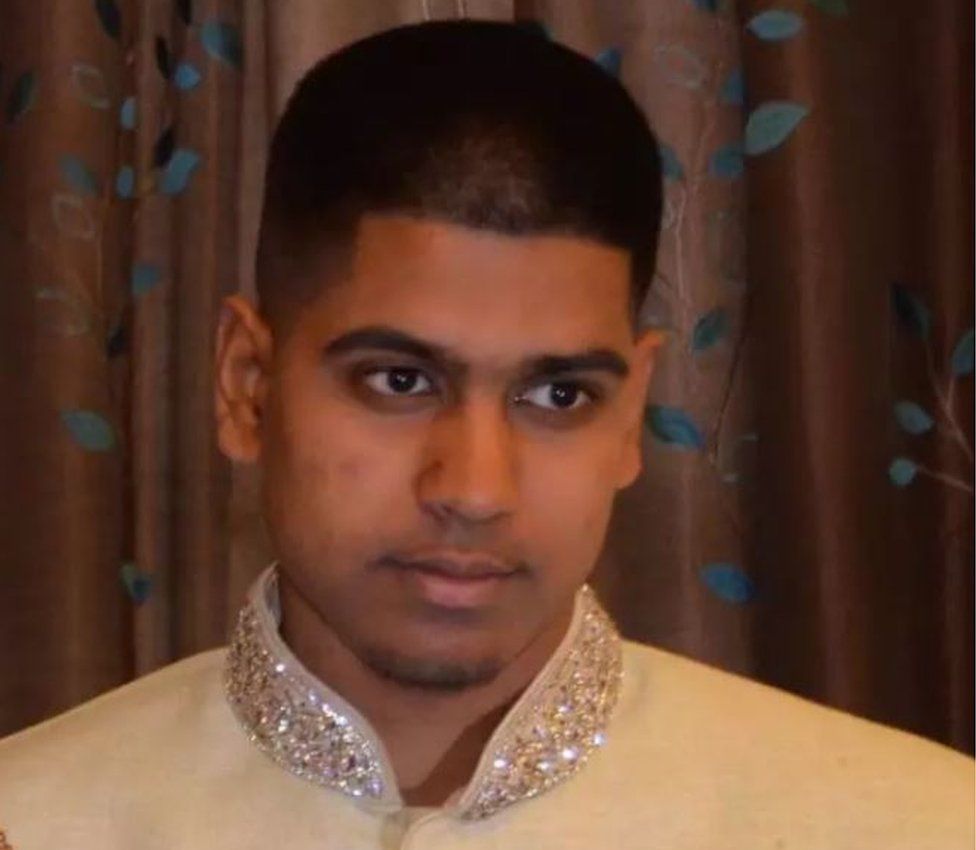 A 16-year-old boy found with bullet wounds within an hour of another fatal shooting in London has died.
Amaan Shakoor, from Leyton, was left critically ill after he was shot in the face in Walthamstow on Monday. A 15-year-old boy was also injured.
The killings, which police say are not linked, take the number of murders in the capital this year to 48.
Amaan died in hospital at 17:45 BST on Tuesday with his next of kin at his side, becoming the youngest murder victim to die in London this year.
The 15-year-old boy who was stabbed in the same attack has been released from hospital.
Amaan was shot in a case of "mistaken identity", a family friend said.
Speaking outside the scene of the shooting at Walthamstow Leisure Centre, Osman, 32, said Amaan had "got caught up" in "gang wars" in the area.
Another friend, who did not want to give his name, told the BBC he no longer feels safe in the area.
He said: "There's nothing to do for the youths. It's getting out of control.
"The youth centre's football pitches are the one place people can come to get away from whatever they're getting away from."
Extra police are on the streets of Walthamstow and officers said they were using stop-and-search powers to seize weapons.
DCI Gary Holmes said: "This is a tragic murder of a young man which has shocked the local community and the rest of London."
Is gun crime getting worse?
David Rhodes, BBC England Data Unit
Overall, recorded gun crime in London is down by a third over 10 years. Yet the latest available figures, for 2016-17, showed an increase. There were 2,136 firearms offences recorded by the Metropolitan Police, a rise of 580 in a year.
Across England and Wales the number of people dying due to injuries from firearms is also down significantly compared with a decade ago, although the most recent figures show a rise.
There were 32 homicides involving guns in 2016-17, compared with 53 in 2007-08.
Yet the number of people dying has risen every year for the past three years.
Her death came as police were already at the scene two miles away in Markhouse Road, Walthamstow, after being called at about 22:00.
There have been no arrests in either investigation.
Acting Det Ch Insp Glenn Butler, who is investigating the Walthamstow shooting, said: "I fully appreciate the alarm, shock and revulsion caused by this murder and other fatal shootings we have seen across London over the last few months.
"We are doing everything we can to identify the culprits and bring them to justice."
He added "the recovery of local CCTV footage is in hand and my officers will be knocking on doors".
Acting Ch Supt Tania Coulson said officers had met community leaders about the murder investigation.
"Section 60 - an intelligence-led pre-authorised power to stop and search - has been continually reviewed and put in place since the evening of Monday 2 April," she said.
"My officers have been on the streets using this power really effectively, seizing knives, stopping cars of young men carrying weapons and making arrests. That will continue... if necessary."
Greg McKenzie, BBC London
The police tents and forensic officers who were outside Walthamstow Leisure Centre yesterday have gone but there are remnants of police tape around the area.
Flowers and tributes have been laid near the site where 16-year-old Amaan was shot. One card simply reads: "I'm so sorry this has happened to you."
One resident described him as "a beautiful young boy".
Another local resident said the increasing number of murders which have happened in the area was worrying.
"It's getting out of control. It used to feel like a safe neighbourhood but everything has changed," he said.
London's Deputy Mayor for Policing and Crime Sophie Linden described the murders as "truly shocking and worrying" and said City Hall was "prioritising tackling this violence".
"We're not pretending there isn't a problem in London but we will get on top of it," she said.
Shadow home secretary Diane Abbott warned against the use of random stop and search tactics, saying it "poisoned relationships" between police and the community.
Speaking to the BBC, the Hackney North and Stoke Newington MP suggested lessons could be learned from how Scotland dealt with knife crime.
"They implemented a public health approach to knife crime - where police worked with education and other parts of the state, and last year... there were no deaths from knife crime in Scotland," she said.
Labour Leader Jeremy Corbyn called for an end to cuts in police budgets.
He said: "We need to make sure there's complete prosecution for anyone holding a weapon; but also much better police and community support arrangements and no longer cuts in London's policing."
A Home Office spokesman said: "There can be no place in our society for violent crime. The government is determined to do everything it can to break the cycle.
"We have already consulted on new laws on offensive and dangerous weapons, including banning online stores from delivering knives to residential addresses and making it an offence to possess certain weapons in private."
Related Internet Links
The BBC is not responsible for the content of external sites.