Hither Green: Relatives mark dead burglar's birthday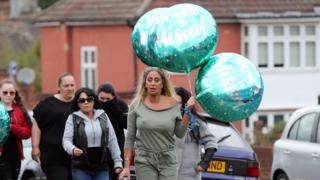 Relatives of a burglar who was killed during a raid on a pensioner's home have marked his birthday at the crime scene in south-east London.
A group of women brought flowers, balloons and a banner to where Henry Vincent was stabbed in South Park Crescent, Hither Green.
Homeowner Richard Osborn-Brooks, 78, was arrested on suspicion of murder but released with no further action.
Tributes to Mr Vincent have sparked outrage in the community.
But one relative said today: "We don't want to cause any violence."
Mr Vincent, who would have turned 38 on Sunday, is suspected of burgling Mr Osborn-Brooks's home on 4 April with Bill Jeeves.
The women marking his birthday were escorted by five police officers, who tried to stop them stapling the banners and balloons to the garden fences of homeowners.
Eventually, the tributes were attached to a street sign and a lamp-post.
A 37-year-old woman, who did no want to be named, said: "We're here because it's his birthday, we just want to lay flowers. We don't want to cause any violence.
"We're not all criminals. We don't all do wrong."
Another woman said: "We all loved him."
Since his death, residents have branded the tributes left to Mr Vincent an "insult" and repeatedly tore them down - prompting Met deputy commissioner Sir Craig Mackey to appeal for respect on both sides.
Mr and Mrs Osborn-Brooks are reportedly living in a safe house and plan to sell their property.