Woman injured in noxious substance attack in Brixton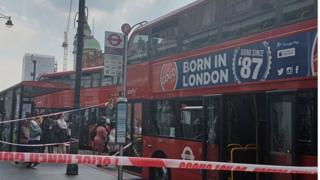 A woman was left "screaming in pain" after she was sprayed in the mouth with a noxious substance while on a bus in south London, witnesses said.
The victim, aged in her 20s, was treated near to Brixton Road's junction with Electric Avenue, close to Brixton Tube station, at 13:45 BST.
Police believe the attack was "targeted" and inquiries are now under way to trace the male suspect involved.
Her injuries are not thought to be life-changing or life-threatening.
Bystanders poured 10 bottles of water over her face after the noxious substance was sprayed into her mouth, eye-witness Rafiq Mohammed said.
Mr Mohammed, 39, who runs a stall in the Reliance Arcade shopping centre where the victim took shelter, said: "This lady came out of the bus, she was screaming, she came to the shop asking for water and was pouring it on her face.
"A few of us tried to calm her but she was just screaming in pain."
Reports on social media described the woman being hosed down with water by firefighters.
A crime scene remains in place and the bus the woman is believed to have been on is currently being examined.
The attack is being treated as suspected grievous bodily harm, the Metropolitan Police said.